By definition (my own of course), sublimation paper is a special type of printing paper that can absorb, hold, and release sublimation ink. But after that, when the ink is applied to a surface (blank surface). You can sublimate since the ink is let loose onto the blank.
Sublimation printing requires a lot of time and work to get started. The goods listed below, however, will allow you to both learn more about sublimation and become more organized.
Few Things to Consider While Choosing a Sublimation Paper
1. Ink Volume and Limitations
This is an important element; the thicker the paper is, the better it will be able to absorb moisture from the ink without curling or warping.
2. Ink Composition
This illustrates how a piece of artwork with a very intricate pattern was printed using a combination of heavy and light ink. Low weight papers are affected by the possibility of curling and shifting after pressing. The best approach to solve this is to use 110gsm or greater paper that can handle both heavy and light inks.
3. Roll to Roll, or Roll to Sheet
Calendar heat press prefers low-gsm papers. But in heavy ink, limit and capacity are to be considered wisely. Here we consider the limitations of high capacity production and consequences like warping and curling.
4. Print Speed
The quality of the paper to be produced depends on what speed it is being printed at. Fast printing produces lightweight paper, slow printing produces thick paper.
Uses of Sublimation Paper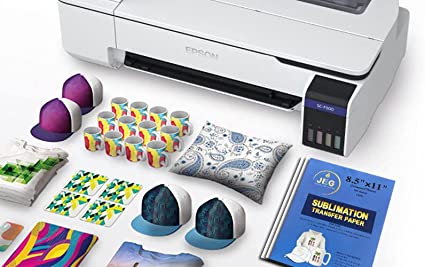 Sublimation paper is applicable to sublimation transfer, on which can print images with mirror reversal through inkjet printing, flat printing, screen printing, and gravure printing. Then transfer the image onto media by heating and pressuring, which makes ink on the paper become a gaseous state and combine with the media.
Heat transfer paper is used for this purpose. Images are printed on it using flat printing, and are then mixed with the medium by heating and applying pressure to transfer the image to the media.
Sublimation ink and paper are also used simultaneously. Heat transfer paper is used with inks such as solvent ink, pigment ink, and sublimation ink. Media: On polyester, mouse pads, banners, and other hard surfaces like mugs, pottery, and aluminium plates, sublimation paper may be transferred. However, heat transfer paper is often applied to cotton.
Types of Sublimation Paper
The sublimation industry is expanding daily and gaining popularity by offering top-notch pattern transfers onto the substrate. There are several things that can improve the way your printed design is transferred to the target material. One of them that is really utilized to keep the sublimation ink in place and absorb it is sublimation paper.
In a manner, it works by placing the sublimation paper on the desired surface for sublimation. Then, you heat it through the heat press by applying pressure for the prescribed amount of time and temperature. Sublimation paper transfers the sublimation ink onto your material once it has been appropriately heated.
When using the sublimation process, there are several things to take into account. Similar as earlier, there are a few things to consider when selecting the sublimation paper. Ink volume and restrictions, ink pattern, print speed, and roll to sheet are further crucial variables. Don't choose any sublimation paper before knowing these crucial details.
1. FU-A Sublimation Paper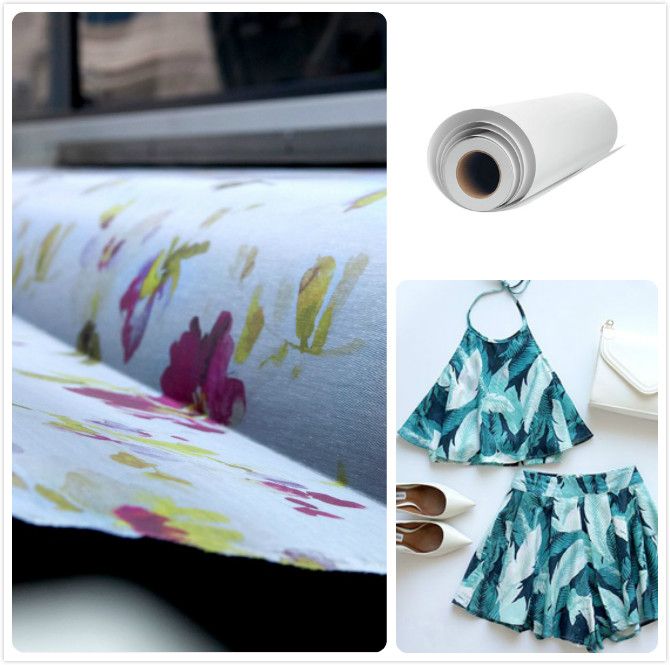 The patterns are transferred using FU-A sublimation paper to fabrics, banners, mugs, flags, purses, clothing, pottery, ribbons, and other items. However, FU-A includes a variety of papers, and there are various working skills for various materials as well. It uses fast-drying sublimation paper, which is perfect for imprinting pictures on polyester or coating objects like ceramics, metal, and textiles. Additionally, the 100gsm 44′′ sublimation paper is suitable for all inkjet printers and is perfect for light-colored chemical fiber, T-shirts, mugs, plates, and mouse pads.
To get the outstanding results you want, it also uses 100gsm sublimation transfer paper and water-based sublimation inks to transfer on flexible fabric. Because of motions throughout the transfer procedure, it can eliminate the possibility of ghosting. Additionally, the ideal transfer paper for 100% polyester coated materials is 70 gsm. Additionally, the 120gsm is used to improve the performance of some nylon or polyester textiles.
2. FU-B Sublimation Paper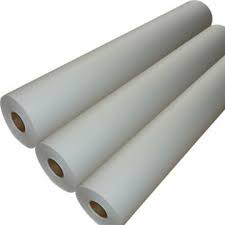 This particular roll-size sublimation paper uses 75gsm transfer paper and works with sublimation inks that have an aqua base. And it works best with commercial printers that can print designs quickly. Additionally, it contains 90gsm sublimation paper, which is actually of same quality as 100gsm. However, it merely provides consumers the power to refrain from making more purchases and reduces ink usage.
For use with dye ink and suited for all inkjet printers is 120 gsm, while the finest inkjet paper for transferring designs to ceramics, metal, glass, and fabrics is 50 gsm.
3. FU-C Sublimation Paper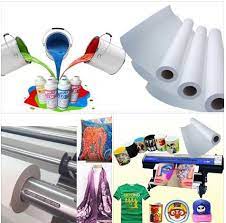 The FU 44′′ 90gsm sublimation transfer paper is used to transfer the designs on the sportswear or uniforms. because when transferred using FU-C sublimation paper, these materials provide better results. The FU 64′′ 80gsm has been discovered to be the best for printing polyester textiles using sublimation ink. and appropriate for Epson and Roland printers to achieve better outcomes.
The greatest alternative right now if you're seeking for industrial printing usage is 88gsm transfer paper. It works with aqua-based sublimation dye ink on polyester-coated textiles and is great for promotional goods. And for reliable results when sublimating the banners and flags, I would recommend using 85gsm transfer paper.
4. FU-L and FU-Q Sublimation Paper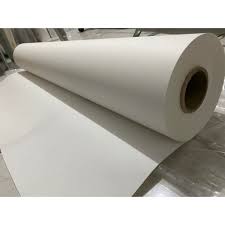 A green sticky sublimation paper that is compatible with sportswear is also available for this particular material. Additionally, it completely avoids the possibility of ghosting while transferring your design via this paper. Once the procedure is complete, the color effects are stunning.
And has stated that the sticky sublimation transfer paper is ideal for printing on bicycle clothing. owing to the fact that these particular roll papers on these materials and equipment have yielded better outcomes..
A3/A4 transfer paper has the ability to transfer the design on shirts that are both bright and dark in color. Are you tired of completing your work on the incorrect sublimation paper? Not to worry. There is anti-ghosting 95gsm sublimation paper available, and it works well with big size textile printers. Additionally, there is temporary sublimation paper that has generated outstanding outcomes when printing advertising banners..
5. FU-MS and FU-KH Sublimation Paper

It features sublimation papers in weights of 100gsm, 105gsm high, 105gsm full, and 105gsm, which are best suited for printing team jerseys, spandex textiles, uniform and sportswear items, and functional textiles, respectively. Additionally, it offers non-curl 120 to 140 gsm sublimation paper, which is the optimum choice for use with all inkjet printers. There won't be any fading, ghosting, or cracking when utilized for printing on fashionable garments.
Three layers of coating paper are used in FU-KH sublimation paper to deliver high-quality results. Additionally, 100gsm digital sublimation paper for polyester fabric and all inkjet printers with greater transfer rate ratios perform well with it.
6. FU-W and FU-Z Sublimation Paper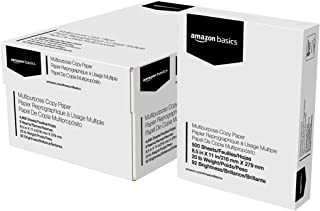 The papers that work well with the fast printer are also part of the FU-W sublimation line. FW 58 gsm and industrial ultra-light 45 gsm sublimation transfer papers, respectively, are also available for use with sports and utility fabrics. Give us the light coating sublimation paper as well for high-speed printing on textiles.
Furthermore, FU-Z is the supplier of 100gsm high speed, 100gsm instant dye heat, and 100gsm super rapid dry sublimation papers, which are better suited for printing on clothes, digital transfer printing, and bleach slippers, respectively. Additionally, it provides ceramic mugs and A3-size sublimation paper for shirts with polyester coatings.
7. Large Format Sublimation Paper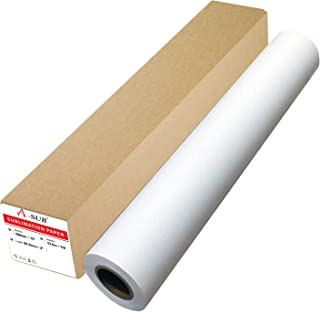 The greatest results for big format printing come from 50 gsm sublimation paper, which has a light coating and a greater speed. It works best with sports and practical textile items and quickly absorbs the ink. welcomes all inside items for homes as well as advertising accessories.
For customers using high-speed printers on a big scale, it offers customizable size transfer sheets. Additionally, several anti-curl sublimation papers are available for MS-JP5 and high-speed printing devices.
8. Reggiani Sublimation Paper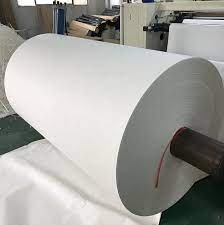 You can get all of those papers from Reggiani sublimation papers in sizes of 66gsm 64′′, 66gsm 63′′, 66gsm 36′′, and 66gsm 24′′. That is compatible with digital textile, Reggiani printers, and textile printing.
The best ink for dye sublimation has a greater transfer ratio, no cracks, and no ghosting at all after the transfer process. 66gsm 63′′ should not be used for ceramics or dark-colored clothing. You can transfer using 66gsm 36′′ on 100% light-colored cotton.
Frequently Asked Questions
Can you use a regular printer for sublimation paper?
While using sublimation paper in a standard printer won't damage it, you can't use it to print a sublimation-ready image without sublimation ink. The secret is sublimation ink, not sublimation paper; for heat transfers, sublimation ink may simply be printed on regular copy paper.
What is sublimation paper made of?
Paper and a special coating that makes it Sublimation Paper.
Is sublimation paper the same as transfer paper?
Through a technique called sublimation, the ink is made to blend into the cloth, just like a tattoo would. The transfer paper gives the garment an additional layer.
Can you make sublimation shirts on a regular printer?
You may print on this paper with your regular inks using a basic inkjet or laser printer. The paper is then applied to your garment, and you use a heat press or, in certain situations, an iron to remove it. After that, your design will be adhered to your clothing, and the transfer will be visible.
What sublimation paper works best?
The best overall is A-Sub Brand Paper 125g, which is of the greatest caliber. The "middle of the road" paper, A-Sub Brand Paper 120g offers good quality and vibrant colors and is ideal for all applications..
Can I use freezer paper for sublimation?
Avoid using freezer paper or wax paper. These items are all either heat-sensitive or do not release moisture.
Final Words
In short, sublimation paper is a special printing paper that absorbs and retains ink. When placed on a blank surface (such as a T-shirt, vinyl sheet, mouse pad, or other material) and heated, the sublimation paper will release ink onto the material. This process allows you to print indirectly on all different materials and products.
If you're needing sublimation paper for mugs, and you're using a Ricoh or Sawgrass printer, you should definitely consider the TexPrint R Sub Paper. This is available in 4 x 9.5 inch size especially for mug sublimation transfers.
You can also simply cut down larger sheets of sublimation transfer paper (such as A-SUB) and use that for printing on mugs. Always make sure you are using a poly coated mug for sublimation.