The way people approach DIY creation at home has completely changed thanks to Cricut sublimation printers.
These sublimation printers are really game-changers since they are reasonably priced, small, and simple to use. It has never been so simple to cut a range of materials with laser-like accuracy.
With Cricut sublimation printers, you have unrivalled creative flexibility!
From the comfort of your home, you can use your Cricut to cut out all of your favorite patterns and designs, prepare them for sublimation printing, and complete the entire project more quickly than you ever imagined.
What is Sublimation for Cricut?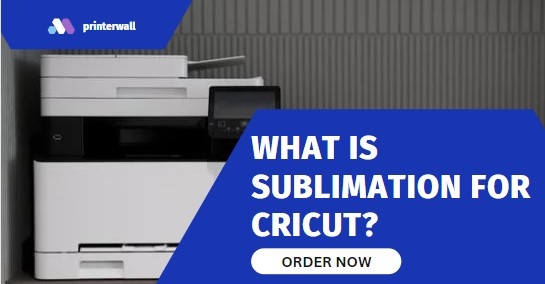 When you heat up your sublimated images and press them onto a piece of cloth, they instantly transition from a solid to a vapor state, which is simply what the name sublimation indicates.
The design from the original sheet of paper is transferred to your cloth by the heat forcing the material to sublimate.
In the end, sublimation simply refers to the process of using heat to transfer a printed pattern from specialized materials (often sublimation paper) to a piece of cloth or another material.
With dye sublimation, almost any type of cloth may be printed with full-color, gorgeous, rich, HD graphics. Although it truly only works with polyester, you may sublimate cotton or other textiles by modifying the heat transfer parameters on your device.
Even their own brand of dye sublimation apparatus is available for use with the Cricut cuts and heat presses. Dye-sublimation solutions are actually all that the Cricut Infusible Ink product line is.
Supplies Needed To Do Sublimation With Cricut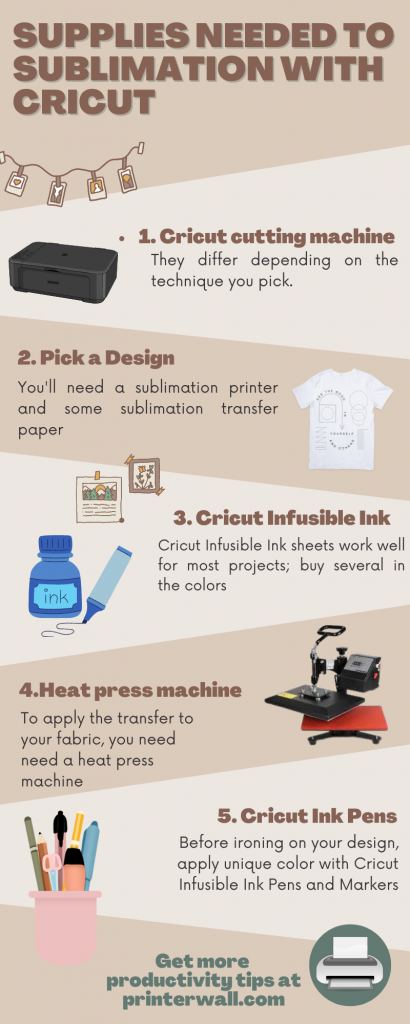 There are a few items you'll need to use your Cricut cutting machine for sublimation, but they differ depending on the technique you pick.
So that you may print the designs or pictures on the necessary materials, you'll need a sublimation printer and some sublimation transfer paper (only needed for customized color printing)
Cricut Infusible Ink sheets work well for most projects; buy several in the colors and designs you want.
Before ironing on your design, apply unique color with Cricut Infusible Ink Pens and Markers.
To apply the transfer to your fabric, you need need a heat press machine.
Before doing your transfer, use a lint roller to remove fluff and other particles from the cloth.
Surfaces for printing. Fabric, canvas, tiles, wood, and other hard surfaces may all be sublimated on.
How To Do Sublimation With Cricut
You must prepare your Cricut machine for sublimation printing once you have acquired all the required materials.
To do this, you must Install the appropriate blade adapter for your Cricut machine in step one. This pink blade adapter is for the Silhouette CAMEO 3.
Insert your cutting mat into your Cricut machine, printing surface facing up.
Put your sublimation paper into the printer and turn your Cricut machine to the "print" mode.
From your design programmed, select the design you want to print, and then send it to your Cricut machine.
Remove your design from your cutting mat after cutting it out.
Place a transfer sheet on top of your printed image, being care to thoroughly cover any exposed surfaces.
Position your print where you want it to be applied, then push down evenly using a heat press or an iron for three to five minutes to properly transfer the sublimation ink to the material.
After removing your print from the heat press, let it cool completely for at least 15 minutes before handling it. After that, you may cut off any extra transfer paper and admire your lovely sublimation print.
Pros and Cons of Using Sublimation with Cricut
You should be aware of the benefits and drawbacks of utilizing Cricut sublimation to complete your new design project before you jump in (whether you're using Infusible Ink or conventional sublimation printers).
Pros include the following:
Your graphics won't crack, peel, or wrinkle the way vinyl would since they are far more durable and sturdy and are essentially incorporated into the material that you are printing on.
The finished product is very professional, with sections that appear to have been manufactured on an assembly line rather than in a back bedroom.
The garment's ability to expand with your body while you wear it gives it a far more natural appearance.
When utilizing calibrated Cricut equipment, dye sublimation and infusible ink supplies are simpler to "weed" with the design's negative portion.
Cons include the following:
Dye sublimation requires high temperatures for the transfer to be successful, hence not all materials will cooperate well with this design decision.
Products containing infusible ink are solely intended to function with Cricut hardware, particularly.
You only get one go at the heat transfer, so if anything doesn't work out you have to throw the item away and start over. Your design can only be as large as your heat press is. Traditional dye-sublimation printers are a bit on the costly side of things (even today).
Wrapping Up
Because the designs you can make are infused into the blank you place them on, giving you the most professional finish imaginable, Cricut Infusible Ink is one of the most fascinating items to work with.
The Infusible Ink supplies are ideal for the majority of projects and simple for anybody to use, even if some people opt to purchase a sublimation printer to produce fully unique creations.
Frequently Asked Questions
Do you have to cut sublimation paper?
Yes, you must cut it since any blank space will appear as white on your t-shirt. For light-colored shirts, this is less of an issue, but it is definitely important for dark-colored clothing.
Can you sublimate on Cricut smart iron on?
While printing with your printer using Cricut Design Space and Print then Cut is not possible with the Cricut, sublimation is.
Is Cricut infusible ink the same as sublimation?
The method is roughly the same with Infusible Ink, which Cricut launched as a sort of sublimation. You may buy Infusible Ink Sheets that your Cricut machine cuts out, or you can use the Infusible Ink Markers to draw your pattern on your paper that way.
What does sublimation mean for Cricut?
According to science, sublimation is the transition of a substance from a solid to a gas without ever becoming a liquid. Sublimation is the process by which dehydrated (solid) ink sheets transfer the dyes from the sheet they were originally printed on to the sublimation blank you are designing.
What is the difference between Cricut and sublimation printer?
Ink sheets for the Cricut Infusible come with a transparent lining. The glue that is important for holding the cut pattern in place when pressing is revealed after the negative space is weeded away. When heat and pressure are applied to sublimation paper, only the printed portions will transfer to the substrate.