Because Epson use stuff called Piezo technology, crafters have been transforming Epson printers into sublimation printers for a long. This indicates that pressure is used instead of heat.
Conversion was a little trickier before Epson EcoTank printers. With its refillable ink tanks, Epson EcoTank printers let you to use your own ink.
Be Aware of the Things Before Converting an Epson Printer into a Sublimation Printer
It's preferable to utilise an Epson EcoTank printer that is brand-new and has never used conventional ink. There is a way to utilise a printer that has previously used conventional ink, but it takes longer (you have to clean it out completely) and I've heard the results can be inconsistent.
You may only use a printer that has been converted to a sublimation printer for sublimation printing.
The warranty is denied if you turn your EcoTank printer into a sublimation printer.
Sublimation printing is possible with any Epson EcoTank printer. The usage of Piezo technology and the presence of fillable tanks are the key features to look for.
How to Convert Your Epson Printer to a Sublimation Printer
The real fun can now start! What now? You've bought your Epson EcoTank printer, your Hiipoo Sublimation Ink, your sublimation paper, and your sublimation blanks. Let's set everything up for you, shall we?
Step 1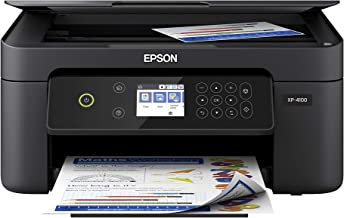 First, take your printer out of the box and discard all of the plastic. DON'T connect your printer. Open the ink box. Gloves and syringes are included with Hiipoo Ink so that you may fill your ink tanks.
Step 2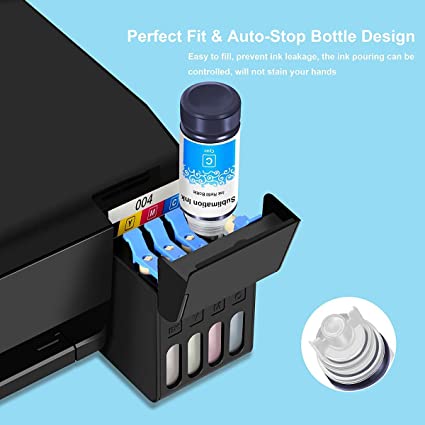 Put on your gloves in step two. The ink tank's casing should be opened. On top of the black ink tank, flip up the blue lid. A syringe should be filled with black Hiipoo Ink. To do this, take off the lid from the Hiipoo Ink Container, slide the syringe into the top, tip the bottle to one side, and gently draw up on the plunger. Once the syringe is full, place it within the ink tank's opening and gradually lower the plunger to release the ink.
Keep an eye on how much ink is entering the ink tank through the machine's front glass. I injected four syringes' worth of ink into each of my tanks. Once your black tank is filled, close the ink tank lid and continue the process to fill the yellow, magenta, and cyan tanks with the appropriate colors of ink. For each color of ink, use a fresh syringe.
Step 3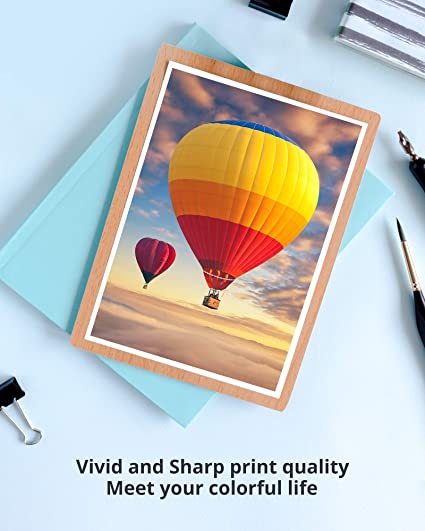 You may plug in your printer after all of your tanks are full. Here is a broad description of the steps involved in setting up your printer. Complete instructions will be included with your printer.
After turning it on, you'll be prompted to choose your location and the time.
Your printer will next go through a sequence of preparations.
Your printer needs to prime the ink before you can use it to print anything. To complete this operation, follow the directions in your instruction manual because each printer's instructions may change somewhat. You might want to refill your tanks after this as it uses up some of your sublimation ink. You only complete this step when configuring your printer for the first time. The syringes may be cleaned after you refill your printer so they are ready to use the next time you need to fill the ink in printer.
A sequence for alignment will then be executed by your printer. The alignment sheets can be printed on plain printer paper.
The ability to connect your printer to your computer will finally be available. You may either use the CD that came with your printer or the URL that is included in your instruction manual to achieve this.
LIST OF EPSON PRINTERS THAT CAN BE CONVERTED TO SUBLIMATION PRINTER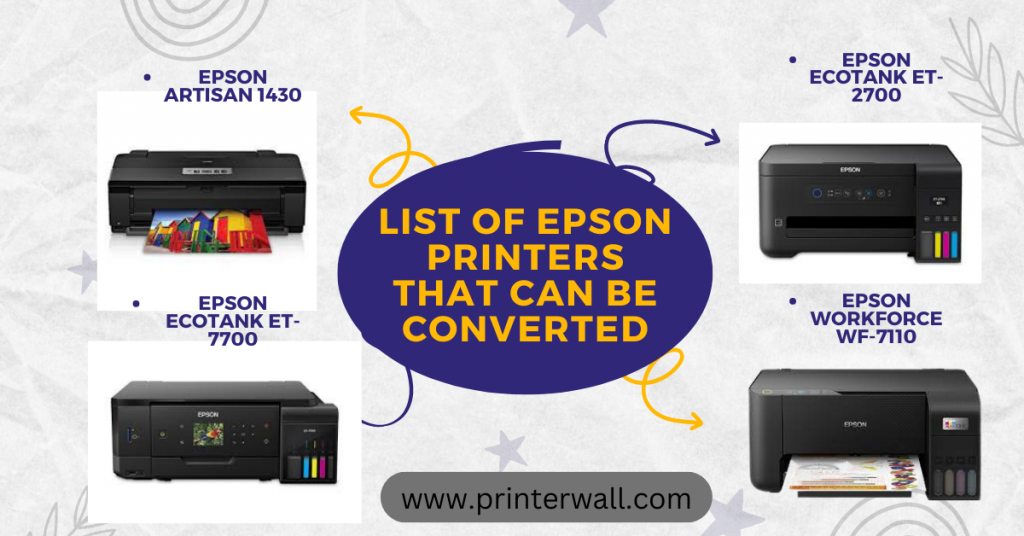 It's simple to get started with sublimation printing, and the sublimation printer is the key piece of kit. You have the option of purchasing a printer that is designed specifically for sublimation printing or one that has to be converted to one. Choose the appropriate printer from this list of Epson models that may be converted to sublimation printers to begin your sublimation printing project as a hobby or small company.
The following Epson printers can be used for sublimation printing, although the company no longer makes them. These may still be available from Epson directly as a reconditioned printer or they may even be in the used market. When purchasing them used, it's important to check that the print heads are still in good condition. It's likely that the print heads have dried out if the printer has been disconnected and idle for some time.
Epson Artisan 1430
Epson WorkForce WF-3620
Epson WorkForce WF-3640
Epson WorkForce WF-7110
Epson WorkForce WF-7710
Epson WorkForce WF-7720
Epson WorkForce WF-7610
Epson EcoTank ET-2700
Epson EcoTank ET-2720
Epson EcoTank ET-2750
Epson EcoTank ET-2760
Epson EcoTank ET-3710
Epson EcoTank ET-3760
Epson EcoTank ET-4700
Epson EcoTank ET-4760
Epson EcoTank ET-7700
Epson EcoTank ET-7750
Final Words
One of the crafts industry's hottest trends right now is sublimation. The ability to create shirts, tumblers, mugs, and other crafts in the comfort of your own home has altered how many people view creating. Sublimation is a game changer and significantly expands your crafting options, whether you're doing these items for yourself or to sell.
Frequently Asked Questions
Can you convert a printer to sublimation after using regular ink?
The system must be fully cleaned. The reason behind this is that the inks' colours and chemical compositions differ. Therefore, using ordinary ink and then applying sublimation will result in incorrect prints and a mess since the ink doesn't adhere to the substrate.
Can I remove ink from Epson EcoTank?
Yes, take off the cover first. After the cover has been removed, the cartridges may be pushed out by pushing the clip and sliding up. Insert a syringe as shown in figure 1 and open the ink filling caps on the ink tank to draw ink completely through the cart.
What Epson printers can be converted to DTF?
Supported Printers for DTF Printing
Epson EcoTank L800.
Epson Stylus P5000.
Epson EcoTank L805.
Epson Expression Photo HD XP-15000.
Epson Stylus Pro 4900.
How do you drain an Epson ink cartridge?
To turn the device back on, press and hold the back button while pushing the power button. A notification appears, requesting your permission to execute Power Ink Flushing. Choose Yes, then adhere to the on-screen directions. During the approximately nine-minute flushing procedure, you get a message.
How do I flush Epson Ecotank?
Flushing the Ink Tubes
1. Verify that the printer is filled with roll paper or cut sheet paper.
2. If required, press the home button.
3. Select Power Ink Flushing under Settings > Maintenance.
4. To start the power ink flushing, adhere to the on-screen directions.
5. Print a nozzle check pattern and examine it to check for line gaps.